As a member of the Senate Clinical Council, you'll be part of an important multi-professional team of up to 35 clinicians, leading and managing the Senate's business.
Our role is to provide impartial clinical advice, focused always on the best interests of the population, not of organisations or professional interests. Professional objectivity and neutrality are the basis of our influence and credibility.
Together, the Senate Council and Assembly are driving and influencing change across our regions.
Mr JM Lund, Consultant Oncoplastic Surgeon, Clinical Lead for Breast Surgery, Wirral University Hospitals NHS Foundation Trust
Jonathan started his consultant general surgical career in Warrington in 2007 and moved on to become a specialist breast cancer and breast reconstructive surgeon on the Wirral. He has innovated breast reconstructive procedures within his Trust and led the service evolution for breast cancer care on the Wirral. He has held posts liaising with NHS England and NHS Public Health as Lead Screening Surgeon for the Wirral and is affiliated with NICE for assessing the changes of new health developments on care provision.
Jonathan has strong clinical and governance backgrounds which have helped in his work across NHS organisations in bringing projects to successful conclusions.
"Being involved with the NHS Clinical Senates is incredibly useful, instructive and informative for anyone who has a leadership role in the NHS. For lay people who have a very vested interest in service design and ensuring the best available healthcare can be delivered, they absolutely need to have a voice."
Jonathon has been involved with the North West Clinical Senate Council for a number of years. You can read his experience with the Senate Council here.
Helen Hurst, Consultant Nurse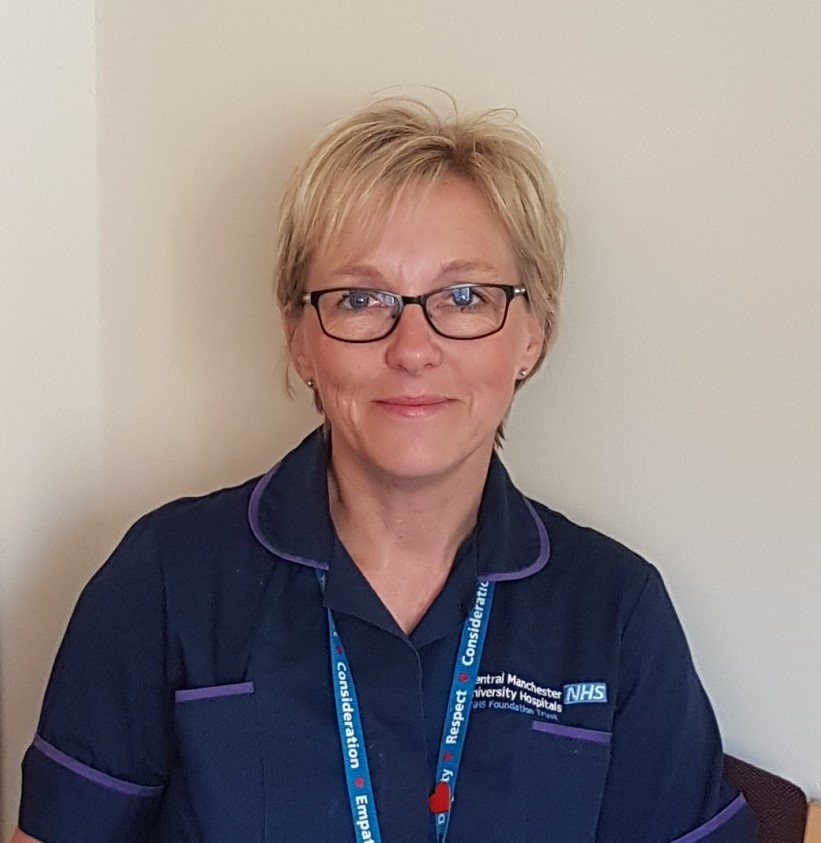 Helen's current role is as Consultant Nurse for older people and frailty within CMFT, based at Trafford General Hospital which is a joint clinical academic position with Manchester University.
Helen currently holds a post -doctoral research fellow position with CLAHRC. She has worked across secondary and community care service and has extensive experience in renal medicine and is the current Vice President of British Renal Society for Education. Helen is a non-executive board member Hope Citadel Community Provider (six GP practice and, a member of NICE expert group (and has been part of NICE guideline development), an expert reviewer NHS ombudsman, an associate of North West Research and Development, and a Clinical Lead of Renal Course Manchester University. Helen's clinical interests are nursing, renal medicine and care of older people. She is a Member of International Society Peritoneal Dialysis (ISPD) nursing and education committee.
"Being involved with the Senates is not a huge time commitment. You take away things that can add value in your own organisation. You bring back new expertise and an understanding of what's going on in other places that is quite simply invaluable."
You can read Helens experience with the Senate Council here.
Dr Martin Hogg, Consultant Clinical Oncologist, Lead for Breast Cancer
Dr Martin Hogg is a clinical oncologist based at the Rosemere Cancer Centre, Lancashire Teaching Hospitals NHS Foundation Trust. He has sub speciality interests in breast and Gynae malignancy and utilises radiotherapy and chemotherapy in the non-surgical treatment of those cancers.
He is co-lead for research in breast cancer in the North West Coastal research network (the northern part) working with Professor Carlo Palmieri who leads in the Mersey and South Cheshire area. He is also a member of the Faculty Board of the Royal College of Radiologists for Clinical Oncology.
At Rosemere he has served as Chair for the Breast NSSG and is currently Clinical Director. He has a very clear motivation to deliver care to patients as individuals, with a focus on the impact of the disease and treatment on both them and their family.
"It's absolutely fascinating looking at the process people go through when they're thinking about these large-scale changes - and it's great to have a voice. So often we feel we don't have voices and this is a way of constructively adding comments. It is challenging and thought provoking and it also gets you to question your own practice, thoughts and feelings."
You can read his experience with the Senate Council here.