Resources and information 
About this guidance
This guidance has been developed by NHS England with the following partners:
Care Quality Commission
Centre for Governance and Scrutiny
Department of Health and Social Care
Healthwatch England
Local Government Association
National Voices
NHS Confederation
NHS Providers
Patients Association
The Health Creation Alliance
Integrated Care Systems in Dorset, North East and North Cumbria, Sussex and West Yorkshire.
It also had input from NHS England's public participation networks and forums. NHS England undertook a public consultation on this guidance during May 2022.
Click Here to view the guidance
Welcome to the first NW Clinical Senate Annual Report covering the period April 2019 to March 2022. Our work was formally paused in March 2020 due to the Covid19 pandemic, with staff redeployed to support the NHSE response. This has resulted in an Annual Report spanning three financial years instead of one, and incorporates work undertaken by the former Greater Manchester, Lancs & South Cumbria and Cheshire & Merseyside Clinical Senates which were formally merged into a single Clinical Senate for the North West of England in March 2021.
To find out further information and to read the full report please access the link below.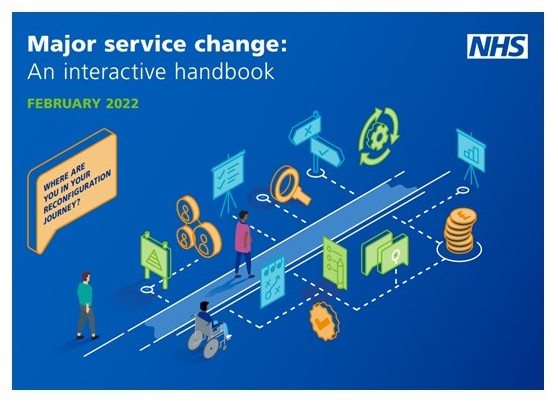 The System Partnerships team at NHS England and Improvement (NHSEI) are pleased to share a new product – Major Service Change: An Interactive Handbook.
The aim of this handbook is to provide advice, information, and support to those with responsibilities related to service change and reconfiguration. In this document you will find a detailed explanation of the core components of service change, links to supporting resources, case studies, key documents, and other materials.
The document is for all those working on service change, whether they are at the start of their journey, looking for detailed support on development, or want to see examples of good practice elsewhere.
The handbook and more can be found on Future NHS System and Service Reconfiguration workspace. The workspace is free and open to join; you can assess case studies and the latest updates in our discussion forums, as well as accessing more products relating to our Learning and Development programme.
If you would like to discuss your service change in detail, and how NHSE/I System Partnerships team can support you, please get in touch directly at jonathan.williams6@nhs.net.
In September 2021, the Government published Building Back Better: Our Plan for Health and Social Care, which (among other things) is committed to a comprehensive national plan for supporting and enabling integration between health and social care, with a renewed focus on outcomes, empowering local leaders and wider system reforms.
It argues partnership working has been demonstrated and strengthened during the pandemic. Further change is required to go 'further and faster' with a particular focus on empowering integration at 'place' through the development of shared outcomes across health and social care
In this context, the Integration White Paper, Joining Up Care for People, Places and Populations, is a statement of policy intent. It was published on 9 February 2022 and is subject to a period of engagement and Government response. This briefing summarises the key proposals, next steps and consultation questions contained in the paper. You can see the Building Back Better: Our Plan for Health and social Care here
North of England Clinical Senates Memorandum of Understanding 2021-2022
This Memorandum of Understanding (MOU) has been agreed and is signed by the Clinical Chairs of the three Clinical Senates across the North of England (NoE), namely:
• Northern England Clinical Senate
• North West Clinical Senate
• Yorkshire and the Humber Clinical Senate
You can read the full memorandum here