Resources and Information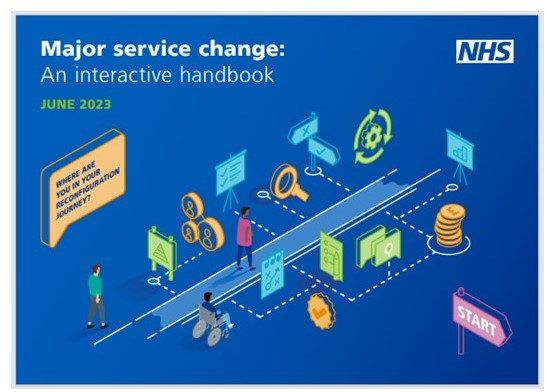 The System Partnerships team at NHS England (NHSE) are pleased to share – Major Service Change: An Interactive Handbook - June 2023.
This toolkit provides advice, information, and support to those with responsibilities related to service change and reconfiguration. Information for each section of the service change process can be found with links to supporting resources, case studies, key documents and other materials.
Many of the links in this handbook lead to the "Service Change and Reconfiguration Future NHS Workspace" which is free to join and open to anyone working in NHS service change.
The handbook was reviewed and refreshed in June 2023 based on legislative and statutory duties in line with the Health and Care Act 2022. Further updates will be made as required to align with any secondary legislation or new guidance issued.
Further advice can be sought from your NHSE regional team on the potential impact of legislative change on your proposals.
Inequalities in health can drive demand for NHS services. Avoidable differences between population groups can impact the prevalence of conditions, and the ability and willingness of people to seek treatment prior to crisis. At a time of intense demand on the NHS, significant financial pressure, and critical workforce shortages, all efforts should be made to address the avoidable factors that contribute to ill health.
This briefing will support NHS finance staff to make the case for change within their organisation and local system. It not only covers the financial and economic cases for change, it also considers moral and social issues and their significance to different population groups. Throughout the briefing, relevant research is highlighted to understand the potential impact of inequality and disparities in health on the NHS. While the focus is mainly on England, the information in this document can be used more widely and is also relevant for NHS finance staff working in Scotland, Wales and Northern Ireland.
The HFMA and NHS England are working together to deliver a range of briefings and online learning modules to enable NHS finance staff to support their organisation to tackle health inequalities. This work builds on existing HFMA resources including The role of the NHS finance function in addressing health inequalities1 and a Health inequalities data sources map2.
This briefing is part of a series of publications focusing on the finance role in reducing health inequalities. Future briefings will cover the inclusion of health inequalities funding in the allocation of resources, business cases aimed at health inequalities improvement, and examples of how finance teams are supporting their organisations to address health inequalities. There will also be a series of detailed case studies providing insight into some of the challenges faced by organisations, how they overcame these challenges, and how others can learn from them.
To view the full document please click here
There are 9 clinical senates across England, providing independent and impartial clinical advice.
The National Clinical Senates Advice & Review Log enables access to all the reviews and recommendations that have been published by the respective clinical senates since their inception in 2013.
Each senate holds their own publications on their websites, a link will take you to the respective senates' website.
You can use the search function to find relevant reviews based on one or more of the following:
The clinical senate that undertook the work
The type of work completed (e.g. clinical review or advice)
The types of service e.g. 'stroke', 'urgent and emergency care', 'acute reconfiguration'.
To access the Advice & Review Log click here
The South East Clinical Senate team, led and prepared by Rachel Bracegirdle, Senate Clinical Fellow and Clinical Dietician have produced a report on 'Embedding healthcare sustainability in major service change.' The aim of this report is to provide guidance to help both systems and review panels to ensure sustainability is embedded into service change proposals from the outset and to demonstrate 'what good looks like' for us as a Clinical Senate. We hope this report provides a useful base to support systems to incorporate sustainability into major service change by providing key questions for systems to ask themselves when considering service reconfiguration and examples of good practice.
Click Here to view the report
We are pleased to publish our NW Clinical Senate Annual Report 2022/23. The pressures in the health and care system have been unrelenting over the last 12 months. Thankfully the commitment of our NW Clinical Senate members is equally unrelenting! They continue to demonstrate an outstanding and admirable commitment to supporting major service change, ensuring that the best possible services are provided to our patients and public. Our report is concise to make it quick and easy to read, but you will find numerous links to further information contained within if required.
North of England Clinical Senates Memorandum of Understanding 2022-2023
This Memorandum of Understanding (MOU) has been agreed and is signed by the Clinical Chairs of the three Clinical Senates across the North of England (NoE), namely:
• Northern England Clinical Senate
• North West Clinical Senate
• Yorkshire and the Humber Clinical Senate
You can read the full memorandum here
In September 2021, the Government published Building Back Better: Our Plan for Health and Social Care, which (among other things) is committed to a comprehensive national plan for supporting and enabling integration between health and social care, with a renewed focus on outcomes, empowering local leaders and wider system reforms.
It argues partnership working has been demonstrated and strengthened during the pandemic. Further change is required to go 'further and faster' with a particular focus on empowering integration at 'place' through the development of shared outcomes across health and social care
In this context, the Integration White Paper, Joining Up Care for People, Places and Populations, is a statement of policy intent. It was published on 9 February 2022 and is subject to a period of engagement and Government response. This briefing summarises the key proposals, next steps and consultation questions contained in the paper. You can see the Building Back Better: Our Plan for Health and social Care here
About this guidance
This guidance has been developed by NHS England with the following partners:
Care Quality Commission
Centre for Governance and Scrutiny
Department of Health and Social Care
Healthwatch England
Local Government Association
National Voices
NHS Confederation
NHS Providers
Patients Association
The Health Creation Alliance
Integrated Care Systems in Dorset, North East and North Cumbria, Sussex and West Yorkshire.
It also had input from NHS England's public participation networks and forums. NHS England undertook a public consultation on this guidance during May 2022.
Click Here to view the guidance
Welcome to the first NW Clinical Senate Annual Report covering the period April 2019 to March 2022. Our work was formally paused in March 2020 due to the Covid19 pandemic, with staff redeployed to support the NHSE response. This has resulted in an Annual Report spanning three financial years instead of one, and incorporates work undertaken by the former Greater Manchester, Lancs & South Cumbria and Cheshire & Merseyside Clinical Senates which were formally merged into a single Clinical Senate for the North West of England in March 2021.
To find out further information and to read the full report please access the link below.